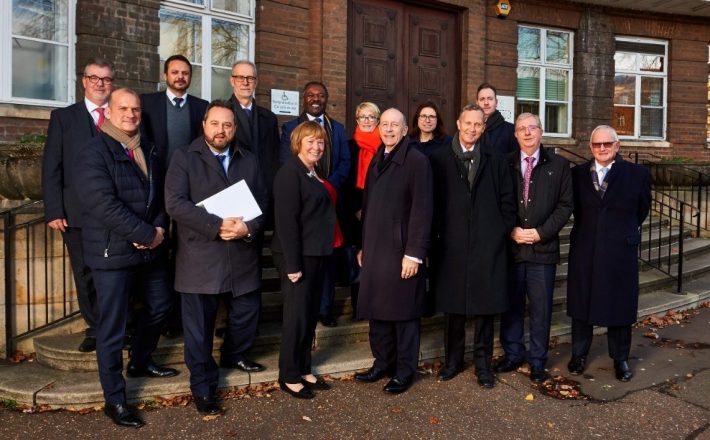 19/01/2018
Deputy Mayor of London visits Watford Riverwell
Watford Riverwell welcomed Jules Pipe, Deputy Mayor with responsibilities for Planning Regeneration and Skills and Fiona Fletcher-Smith, Executive Director of Development, Enterprise and Environment, who headed a delegation from the Greater London Authority (GLA) to the Watford Riverwell site on Friday 8 December.
The GLA delegation received a tour from the Mayor of Watford, Baroness Thornhill and Leigh Thomas from Kier Property as well as other key development partners in Watford and representatives from Watford Borough Council.
The delegation was able to see the progress that has already been made at Watford Riverwell including the new road and the recently opened Trade City Watford as well as the preparations for the first phase of the regeneration project, known as Woodlands.
The Woodlands phase comprises 95 new homes that will offer well-designed, modern apartment living in landscaped grounds that complement the attractive woodland setting. One of the three proposed buildings will be dedicated to affordable housing, comprising a mixture of shared ownership and rented homes. Construction of this phase will start in the new year and the first privately sold homes will launch in Spring 2018.
The GLA visited the Watford Riverwell development as part of a tour of development sites in Watford that are being brought forward for regeneration and to discuss plans to improve local transport infrastructure that will help to facilitate Watford Borough Council's ambitious regeneration plans for Watford town centre.
Follow the latest news on the scheme at  www.riverwell-regeneration.com
Leigh Thomas from Kier joins Baroness Thornhill and the Deputy Mayor of London, Jules Pipe and other delegates from the Greater London Authority on a site visit of Watford Riverwell.