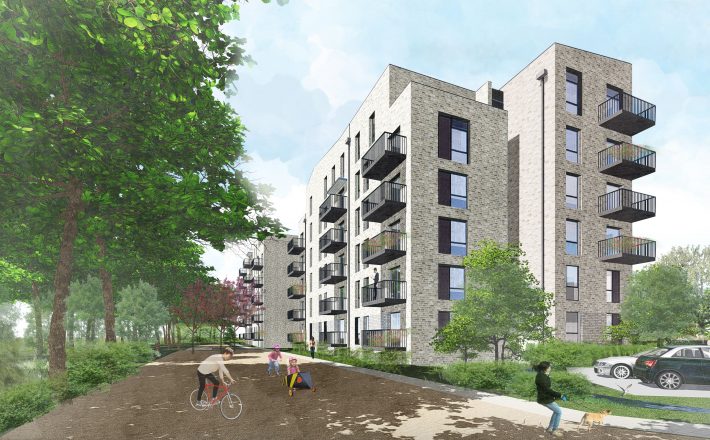 18/12/2017
Watford Riverwell team up with Watford Community Housing to deliver the first affordable homes on site
In November, Watford Riverwell reached agreement with Watford Community Housing to purchase and manage the first affordable homes to be delivered on site. The agreement with Watford Community Housing is for the forward sale and management of 29 affordable homes being built as part of the first phase of the Watford Riverwell regeneration project, known as Woodlands.
The Woodlands phase comprises 95 new homes that will offer well-designed, modern apartment living in landscaped grounds that complement the attractive woodland setting. One of the three proposed buildings will be dedicated to affordable housing, comprising a mixture of shared ownership and rented homes. Construction of this phase will start in the new year and the first privately sold homes will launch in Spring 2018.
Gareth Lewis, Group Director of Partnerships at Watford Community Housing said:
"We're delighted to be delivering 29 much-needed homes for affordable rent and shared ownership with Watford Riverwell. We're excited to be contributing to this prestigious new community in the centre of Watford, and we look forward to providing high-quality homes and services to local people, including the housing needs of staff at Watford General Hospital."
Pip Prongue, Managing Director (South) for Kier Property, Watford Council's development partner on the Watford Riverwell project said:
"This agreement marks another step towards the delivery of Watford Riverwell. This partnership will enable us to deliver high quality affordable housing that will benefit members of our community. We look forward to working with Watford Community Housing as we continue to progress our ambitious regeneration plans."
In November, Watford Riverwell also completed a joint-venture agreement with Mayfield Villages, a specialist retirement village developer and operator, to deliver a village accommodating 250 residents. This will form part of the next phase of plans to regenerate the area around the River Colne, referred to as Watford Waterside.