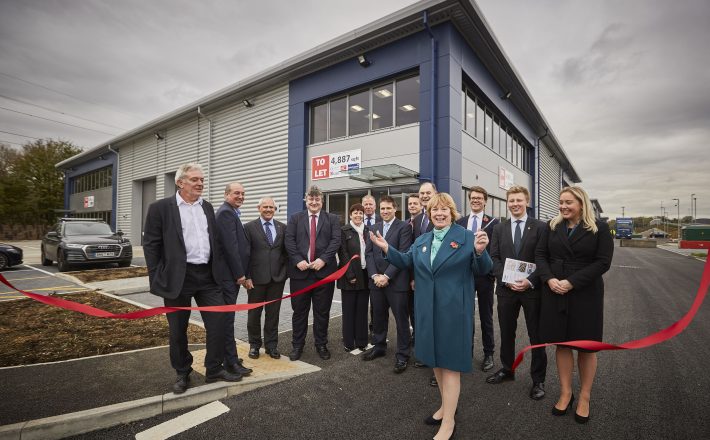 22/11/2017
Trade City Officially Opened at Watford Riverwell
Trade City Watford was officially opened this week by Watford's Elected Mayor, Baroness Dorothy Thornhill.
Kier Property's first commercial element; 'Trade City' is part of the Watford Riverwell project which will see many parts of Watford's landscape transformed into vibrant spaces where people work, live and play.
The £400m Watford Riverwell scheme was formerly known as the Health Campus project, the scheme led by Watford Borough Council and developer Kier Property will transform 29 acres of land near Watford General Hospital over a 15 to 20 year period, providing 500 homes across two new residential areas of the development, as well as a 250-bed "care community", a new primary school, and space for the hospital to expand into.
Work on Trade City began in August last year and Kier's first tenant at the site is Screwfix. Screwfix's Regional Acquisitions Manager commented: "Watford-Wiggenhall Road is a great location for us here at Screwfix. A location like this means we are close to our tradespeople and ensures they get what they want, when they need it.  We look forward to meeting our local customers".
Many of the remaining 11 units are either already let or under offer, making the commercial scheme a resounding success for all parties involved.  To mark this success many agents from the industrial sector gathered to mark the official opening on Tuesday 7th November.
Leigh Thomas, managing director of Kier Property commented: "This new "industrial hub" totals 12 industrial units with a combined floor area of more than 70,000 sq ft. The completion of Trade City Watford has been a great success for the joint venture and builds on the success of the Trade City brand.  Securing Screwfix as the anchor tenant just one week after practical completion was a fantastic achievement and it is great to see them open and trading."