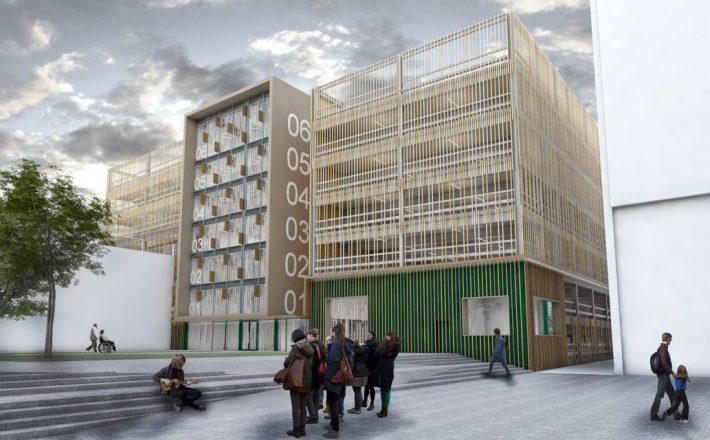 07/02/2019
New car park for Watford General Hospital given the green light
Patients, visitors and staff are set to benefit from improved access to Watford General Hospital thanks to a new multi-storey car park.
Watford Borough Council unanimously approved plans for the car park this week, which will provide nearly 1,300 spaces for staff, patients and visitors. A further 50 spaces are available for Watford Football Club.
Access to the hospital will be much easier for patients and improved lighting and 24/7 CCTV monitoring will create a safer and more secure environment for visitors, staff and patients.
Helen Brown, acting chief executive of West Hertfordshire Hospitals NHS Trust, said: "I'm very aware that the standard of our current parking facilities is far from great and I'm delighted that this development will make life so much better for our patients. Staff and visitors will benefit too as the car park forms a key stepping stone in the further development of the hospital site. I would like to thank Watford Borough Council and its development partner for their determination in bringing this project forward."
Located at Watford General Hospital and connected to the Thomas Sawyer Way roundabout by a link road, the new car park will improve access to the hospital. The new car park is the first phase to the north of Thomas Sawyer Way. It will allow future phases of Watford Riverwell to be delivered by creating space and access to any possible future hospital expansion.
Andrew Storey, Managing Director for Kier Property Regeneration, Watford Council's development partner on the Watford Riverwell project said:
"The new car park for Watford General Hospital will open up the site to the north of Thomas Sawyer Way so that we can deliver future phases of the Watford Riverwell masterplan and complete the transformation of this area into a thriving new community.
"Last year we made excellent progress on the sites to the south of Thomas Sawyer Way at Woodlands and Waterside and in 2019 we will bring forward our vision for the land to the north of Thomas Sawyer Way as we continue to deliver the masterplan to provide much needed homes, new jobs and regeneration in Watford".
Peter Taylor, the elected Mayor of Watford, welcomed Watford Council's decision to approve the new car park for Watford General Hospital, stating:
"I'm pleased that the plans for a new car park for Watford General Hospital have been given the green light. This is something I have campaigned on and I am pleased that by next summer we will have much better parking facilities. Like many other people, I have experienced first-hand the stress of arriving at the hospital and not being able to find anywhere to park.
"The existing car park isn't suitable – with patients, staff and visitors, having to climb a steep hill and a lack of spaces. The new car park will be better and safer than what we have at the moment. It is right that we have worked with the hospital, taking tough decisions to make this happen."
The approval of the new car park is the latest milestone to be achieved. In 2018 planning permission was granted for 408 new homes, including 118 family sized affordable homes at Waterside and the marketing suite on Thomas Sawyer Way was opened, where people can learn more about the 1, 2 and 3-bedroom homes available at Woodlands.
Further progress is expected to be made in 2019: The first new homes at Woodlands are due to be completed and occupied this summer. Proposals for future phases of Watford Riverwell to the north of Thomas Sawyer Way are also being developed and will be presented to the public later in the spring.