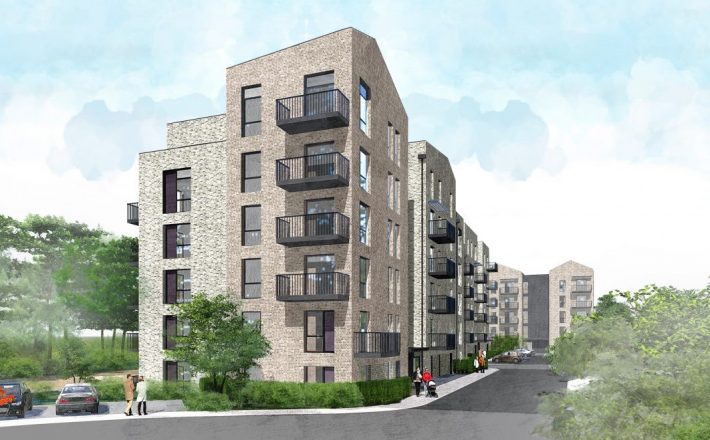 18/12/2017
Jarvis awarded £17m contract to deliver the first residential phase at Watford Riverwell
Jarvis Contracting has been appointed as main contractor by Watford Riverwell, a partnership between Watford Borough Council and Kier Property, to deliver the first residential phase of the £400m Watford Riverwell mixed use regeneration project, which will redevelop the area around Watford General Hospital delivering new homes, shops, community facilities and open spaces.
Jarvis will construct 95 new homes across 3 apartment blocks, extending between 5 and 6 storeys. The project includes extensive soft landscaping that complements the picturesque woodland setting, along with car parking & cycle storage and attractive outdoor amenity space. Importantly, approximately one third of these homes have been designated for affordable housing.
Known as 'Woodlands', this is the first phase of three residential projects across the Watford Riverwell regeneration site, with Waterside and Northern Development Zone to follow in the coming years.
This large regeneration scheme in the heart of Watford will replace existing industrial land with new homes, new business and work opportunities. The overall project will create 500 homes at Woodlands and Waterside, alongside a 250-bed retirement village, a new two-form entry primary school, 4.5 acres of green, open spaces for the whole community to enjoy with links to already established parkland, and business space, which aims to ultimately create up to 1,300 new jobs.
Mark Doyle, CEO of Jarvis Group Construction said:
"It is a great testament to our reputation as high-quality contractors to be appointed by Watford Riverwell to deliver the initial phase of this exciting major project in Watford. Jarvis have a very positive track record of delivering residential projects across the area that we will be working in. Our project team is looking forward to delivering this attractive scheme which will ultimately transform this part of Watford."
Main works will commence in February.