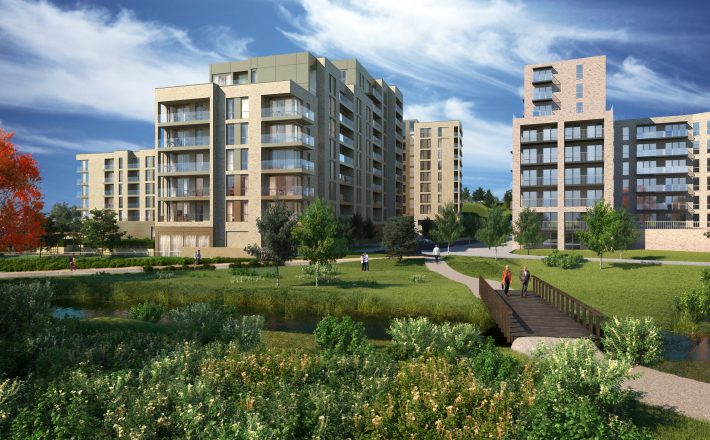 04/04/2018
MAYFIELD WATFORD PLANNING PERMISSION APPROVED
Mayfield Villages, the new retirement villages proposition from Audley Group, has secured planning permission to begin work on its first site in the UK – here at Watford Riverwell.
Mayfield addresses the increasing demand for modern, mainstream retirement accommodation in the UK. This new type of village will transform the way in which older people live by offering high quality, modern housing. Watford is the 19th site within the portfolio of Audley Group, the UK's leading provider of luxury retirement villages, and continues the Group's unbroken record in achieving planning permission for new developments.
Once complete, the village will become a 25,824 sqm vibrant retirement village with 253 properties. It will be centered around the Mayfield Club, to include a buzzing bar, bistro, swimming pool, village hall, fitness rooms and spa. Mayfield owners will automatically become members of the club, and the facilities will be available to those in the local community. A selection of one and two bedroom apartments will be available for purchase, with one bedroom properties starting from £262,500.
Nick Sanderson, CEO, Audley Group, said: "Planning permission for our first Mayfield site is a key milestone in meeting the demand for high quality retirement housing across the UK. The support of the local authorities and communities has always been incredibly important to us, and we hope to continue our good relationships as we build Mayfield Watford. Having the village as part of a wider regeneration of the area is an exciting opportunity, and we look forward to welcoming visitors to the health club and restaurants."
Mayfield Watford will form part of Watford Riverwell, a £400 million mixed use regeneration partnership between Watford Borough Council and Kier Property. The partnership is reviving the area around Watford Hospital to deliver an exciting new community comprising of new homes, shops, community facilities, schooling, jobs and public open spaces.
Andrew Storey from Senior Development Director wth Watfrod Riverwell added, "we are delighted that planning approval has been secured for the Mayfield retirement village.  It will be a fantastic new offer for the people of Watford and we are thrilled that they have chosen to establish their first village here at Riverwell.
Our vision at Riverwell is to build a vibrant community with a strong mix of uses serving a variety of housing needs. The Mayfield retirement village will only add to the mix and choice available.  We are making real progress now.  The site is being cleaned up, Trade City Watford is open for business, providing new jobs and the first homes are being built.  We look forward to Mayfield starting construction soon."
As with the original Audley Villages model, all Mayfield villages will provide 24 hour on-site care provided by Mayfield Care. This is registered and audited by the Care Quality Commission (CQC) and operated by the same team behind Audley Care. A total of 1,250 units are planned at Mayfield Villages sites over the next five years.
More information about Mayfield villages is available at www.mayfieldvillages.co.uk