Explore Watford Riverwell
Watford Riverwell is a reflection of the river that runs through its heart.
The River Colne and its surrounding waterways are currently the subject of a major cleanup and biodiversity project. We're working hard to restore natural habitats and reintroduce native plants and animals so that Watford Riverwell can become a healthy, natural escape within an urban setting – a true breath of fresh air. We're also collaborating with West Hertfordshire Hospitals NHS Trust, and together, aim to create better health facilities in Watford.
OUR VISION FOR THE DEVELOPMENT
Kier Property & Watford Borough Council have come together to deliver a fantastic new neighbourhood that will make coming home a lasting pleasure.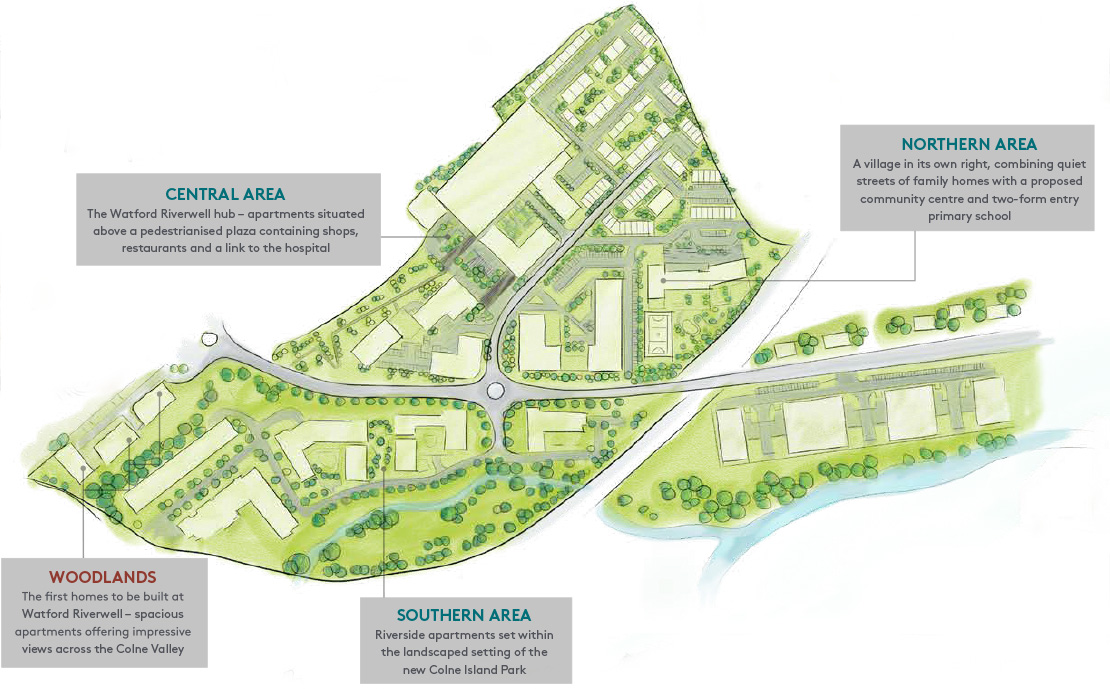 WORKING WITH THE COMMUNITY
The key to Watford Riverwell's success is its community. We're committed to actively engaging with community members to make sure positive change is being delivered – in fact, local feedback has already helped shape the development.
What people told us was important:

Improved open spaces, including new green space and public areas that are easy to walk through and successfully link the different parts of the site.

A proposed new primary school to provide places for existing and new families in the area.

Opening up opportunities for Watford Hospital so that it is not confined by its current footprint.

Much needed new homes, including affordable homes across the site.

New business and work opportunities with premises and facilities to attract new occupiers, creating up to 1,300 new jobs.

Better access and modern infrastructure, including a new road to the hospital site.

The clearance and opening up of the banks of the River Colne.
Register your interest
Register your details to keep up to date with the latest updates and availability at Watford Riverwell.
† By clicking submit, you agree that we may process your information in accordance with the terms outline in our Privacy Policy. We will treat your information with respect, Kier and its partners will use the information you provide on this form to be in touch with updates about Watford Riverwell developments.